About Promise to Practice
States have a responsibility and opportunity to create systems that meaningfully address underperforming schools in order to provide all students with a strong, equitable education.  Check State Plans: Promise to Practice is an independent peer review analysis that looks across 17 states to see how states are providing resources and supports to their districts to target schools that are most in need. The analysis seeks to highlight best practices being used in these states, and to identify specific ways for each state to improve upon its efforts to date.
Culminating with a list of recommendations, "Check State Plans: From Promise to Practice," is follow-up to the "Check State Plans" reviews released last year. This project is the result of a partnership between HCM Strategists and the Collaborative for Student Success.
See the results of Check State Plans: Promise to Practice
Learn more about Check State Plans peer review of education accountability plans states submitted to the U.S. Department of Education in 2017
The Process:
The process of evaluating state progress on school improvement efforts across the nation began earlier this year. HCM conducted a multi month audit of state education agency websites looking for core documents related to school improvement efforts underway by every state. Specifically, HCM was looking for details on how states are approaching the allocation of the 1003a funding in ESSA and the types of resources and supports states are developing for their districts with a particular focus on the state's overall approach to equity.  Surveys and follow-up interviews conducted by Education First with state education officials further informed the progress to date of each state.
A panel of expert peer reviewers were convened and provided a portfolio of state materials to review, using a rubric designed by HCM Strategists, consisting of multiple indicators that have been highlighted by experts and organizations focused in this area of work. The peer reviewers evaluated each state on the basis of their own expertise, and then met to discuss their thoughts on each state. The result of that process is both individual state reports and a national report of recommendations that grew out of the peer's observations.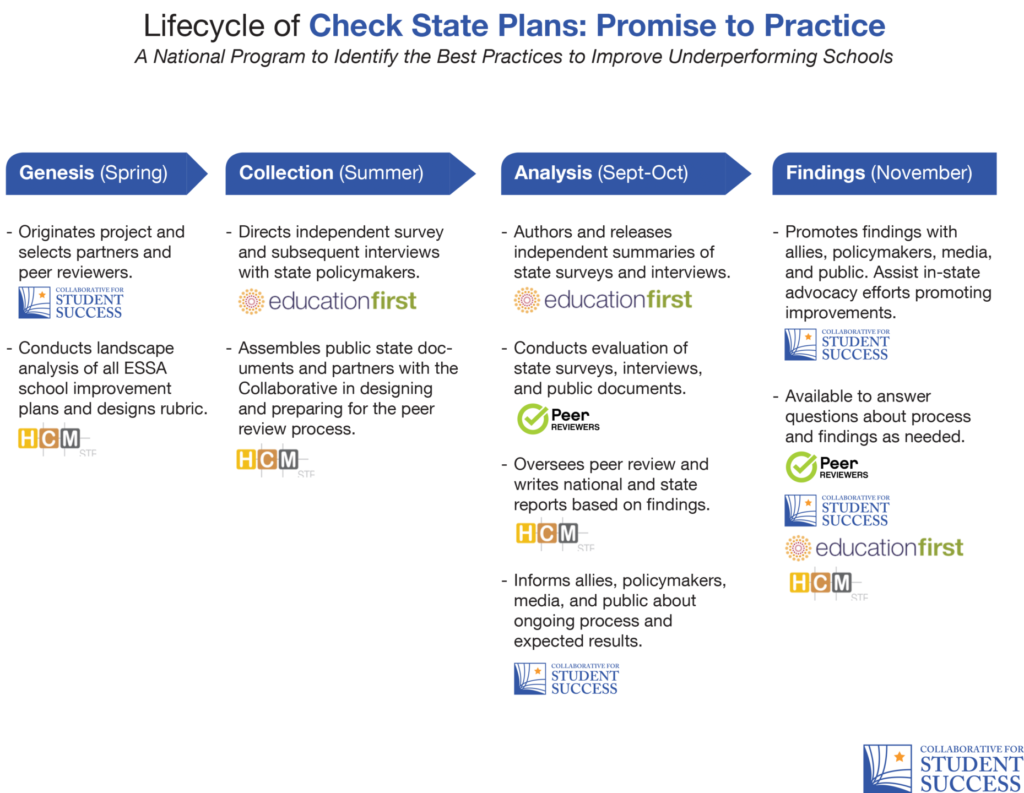 What states were analyzed?
Seventeen states were chosen to be reviewed in this initial round because they had the most publicly-available information at the start of the peer review process. These states include:
Arizona
Colorado
Connecticut
Florida
Georgia
Idaho
Illinois
Indiana
Louisiana
Massachusetts
Minnesota
Nevada
New Mexico
New York
North Dakota
Tennessee
Texas
How were states reviewed?
Peer reviewers reviewed several state specific documents including a state's formal school improvement plan application, rubric, state guidance and supporting materials and an independent survey, conducted by Education First, that was commissioned to support this work. Plans were reviewed and received feedback across 8 different categories which included a state's: vision, funding, rigorous review process, continuous improvement and monitoring, capacity building and autonomy, engagement, and sustainability and were either rated as: exemplary, strong, adequate, needs improvement or weak across those categories.

Click here to visit The74.com and see all of the publicly available content that was reviewed by the peer reviewers
Click here to see Education First's survey results.
Who are the expert peer reviewers?
Independent peer reviewers who participated in one or both rounds of the ESSA plan review process of Check State Plans, and new individuals with specific expertise in school improvement research and/or practice at the state/district and school level, Promise to Practice experts were comprised of approximately 25 peer reviewers include former state chiefs, educators, members of the civil rights and disability communities, and education experts from around the country.
Click here to see the list of peers
What came out of the peer review? 
Promise to Practice highlights best practices being used in these states and identifies areas for improvement.  Besides the full report which can be read here, 17 distinct state reports identify each state's strengths and offers suggestions of alternative strategies to implement best practices widely believed to improve outcomes. Click here to find your state's review.
Visit the "Check State Plans: From Promise to Practice" here.